Preserving Magnificence !!
Create a Legacy
Richardson Romanesque iii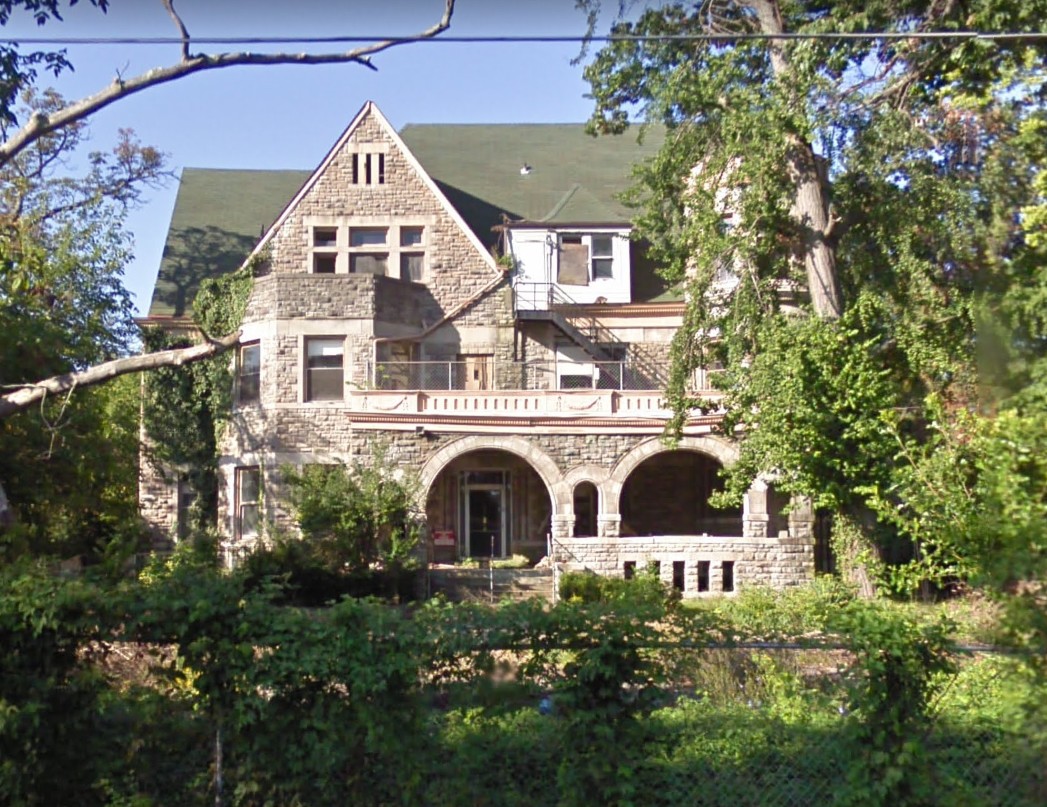 Built by Samuel Hannaford & Sons in 1888
25 Rooms ... 13 Bedrooms, 7 Full Baths, 8,700 SqFt
$ 1,250,000 ... Delivered for Reconstruction = $ 145 SqFt
---



This 1888 gilded age mansion is in danger of imminent demolition. It has been abandoned for a decade and its interior is damaged beyond economic repair. Because its facade is thick hand-cut natural stone, it can be disassembled and accurately reproduced in a complementary setting permanently preserving the beauty of this historic architecture.

ResErections, Inc. specializes in documenting, marketing and disassembling architecturally unique 19th century stone mansions that can be reconstructed on sites where the investment results in the creation of new real estate wealth. Buyers save an endangered magnificent mansion from demolition - and create a marvelous new residence.

We create a great deal for the buyers, owners, the doers, and the public. You Buy It ... We Disassemble It ... You ReBuild It ... You Own It ! Turning cash into real estate property and American wealth into Americans at work saving works of art.

Integration of laser imaging and measurement with AutoCad, Revit, and BIM architectural software, detailed component identification with RFID item tagging, careful photo documentation, disassembly, quality handling, and logistics make the difficult and costly task of relocation and accurate reconstruction of stone buildings practical.
---
Moving majestic stone mansions is Practical
The Kemper Castle has been ResErected
Ohio's Kemper Castle has been reconstructed in the hill country outside Austin. It has two towers and a 50 mile view of the Blanco River valley. Location confidential - house cannot be seen from the road.
---
We only work on mansions that are endangered with deterioration and demolition. With professional disassembly, these houses can be reconstructed precisely. We exhaustively laser scan the building for precise measurements, and use RFID item tagging for inventory management. Every stone and recoverable stick would be replaced in its original position.
Gregory P. Luth, Ph.D., S.E., SECB ... GPLA Structural Engineers & Builders. "Reserections saves 19th and early 20th century stone mansions using modern laser scanning and BIM technologies to facilitate deconstruction and reconstruction, moving these magnificent edifices out of now-decrepit surroundings to sites where their grandeur is an asset.
ResErections utilizes creative destruction to save some of our doomed historical architectural heritage, fostering a rebirth of craftsmanship and mobilizing demand to create a new market. If one were to design one of these houses from scratch, the wonderful stone would be unavailable or cost prohibitive.
With HD BIM process, combined with laser scanning, deconstruction and logistics, these structures can be rebuilt anywhere in the country, including in high seismic areas. Technologies such as base isolation and fused shock absorbers make these virtually earthquake proof, able to survive multiple great earthquakes with minor structural damage.
But that isn't the best part. Using modern gravity structures, we can replace the interior bearing wall and wood floors with long spans that would enable modern open floor plans inside the classic stone façade."
---
The Architect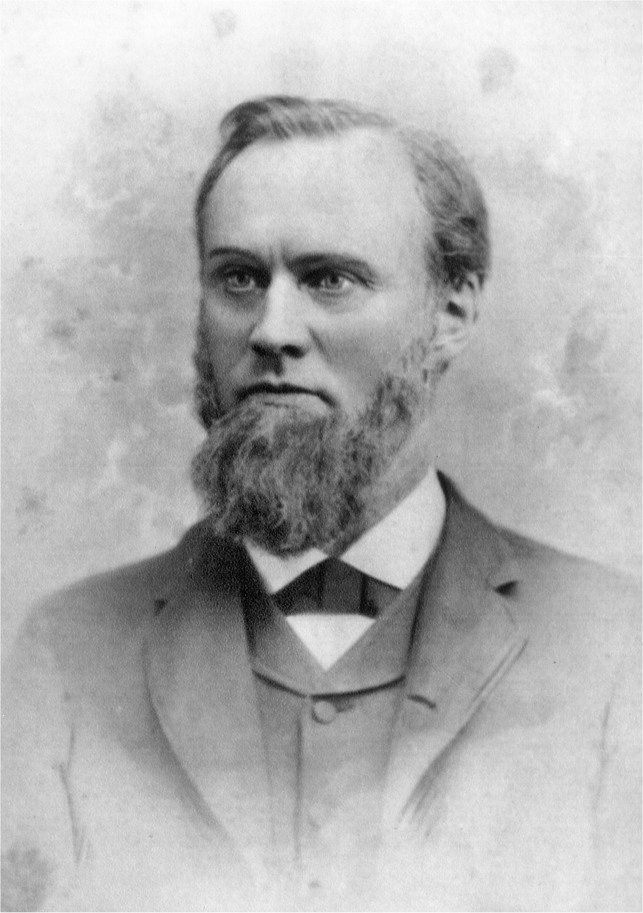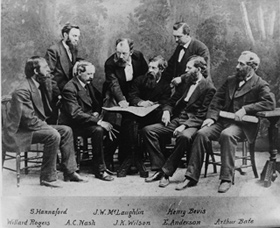 Samuel Hannaford
Samuel Hannaford (1835 - 1911) is one of the most admired architectects of the late 19th century. His reputation has endured along with his buildings. His European influenced designs are often referred to as Richardson Romanesque. Hannaford designed over 300 buildings from New England to the Midwest and South.
Why this house must be moved ... The neighborhood is rife with drug activity and violent gun crime. In 2008, there were 19,331 calls for police service, 1703 crimes including 11 murders, 19 rapes, 237 robberies, 92 assaults, 440 burglaries, 776 larcenies, and 144 car thefts.
The chance of being a victum of a crime is 1 in 11.
The chance of being a victum of violent crime is 1 in 75.
The chance of being a victim of property crime is 1 in 13.
The violent crime index is 41% higher than its city average and 218% the state average.
Crime is up 16 % from 2000.
The house is a condemned wreck. Below are 10 year old orders from the city building department.
6/18/2009 BARRICADE THE BUILDING - Securely barricade openings in this building to prevent the entry of trespassers within fifteen (15) days of the date of this notice and maintain the barricades until windows, doors, and other openings are repaired in an approved manner. Please refer to the enclosed information on barricading buildings. The time limit to file an appeal of this order is ten (10) days of the date of this notice. Barricades: If a vacant building is open to access by trespassers, the directors of buildings and inspections may order any openings barricaded to prevent trespassers from entering such building. The barricading of such doors, windows, and other openings shall be maintained as long as the building is vacant or until windows, door, and other openings are repaired in an approved manner.
8/27/2009 OBTAIN A VACATED BUILDING MAINTENANCE LICENSE - Apply for a Vacated Building Maintainance License and provide proof of liability insurance within 30 days of the date of this notice and cause the premises to conform to the minimum standards of safety and structural integrity set forth below within 90 days of the date of this notice. The owner of a building ordered in whole or in part vacated or kept vacated by the director of buildings and inspections shall apply for a vacated building maintainance license, cause the premises to conform to the minimum standards of safety and structural integrity and obtain vacated building maintainance license.
8/27/2009 KEEP THE BUILDING VACANT - The building is vacant. Falling ceilings can be seen through the windows; windows are broken; exterior surfaces require paint; the yard is overgrown. The building is not habitable. Keep this building vacant until it is brought into compliance with the applicable provisions and restored to a safe and sanitary condition. Vacation and barricades: The director of buildings and inspections shall be authorized to order any building or portion of any building vacated, or if it is vacant to remain vacant for one or more of the following reasons set out below. Code violations: When a building is occupied, or any work, operation or construction is performed therein or thereon in violation of any of the provision of this code. Unsafe or unsanitary building: When in the opinion of the director of buildings and inspections the building is unsafe or unsanitary. Noncompliance: When the owner, agent, or tenant fails or refuses to comply with any lawful order issued by the director of buildings and inspections.
Why this house is doomed ? ... The only reason it still stands is the cost of demolition. The city is forced to demolish several old abandoned houses every week in this 2 million citizen midwestern city. This house would take 2 weeks of backhoe and dumpster work, and cost taxpayers $ 200,000 to demo and remediate the site, 10 times the cost of routine demolitions. So, it stays on the list of expensive, nusiance problems in the neighborhood, waiting for next year's budget ... year after year.
---
Delivered for Reconstruction = $ 145 sqft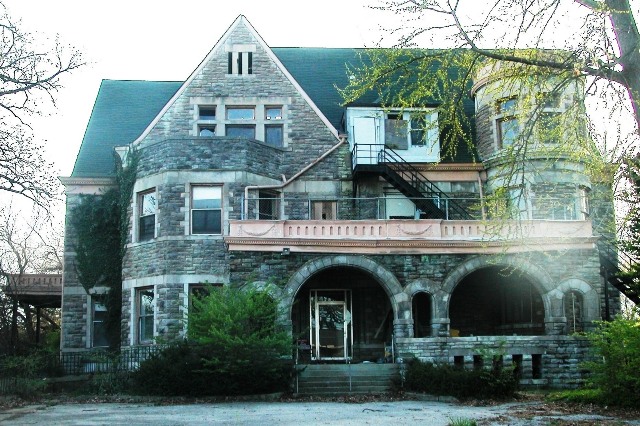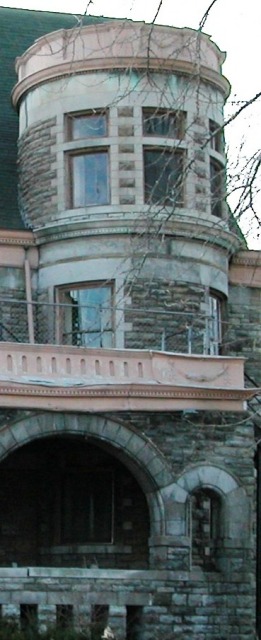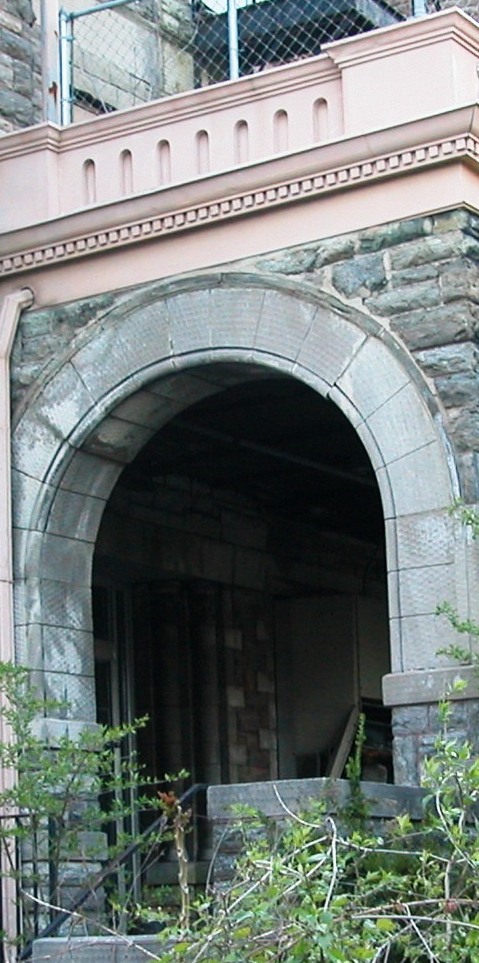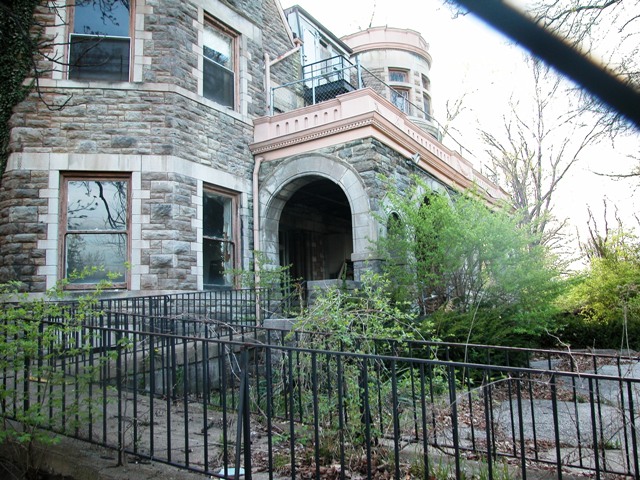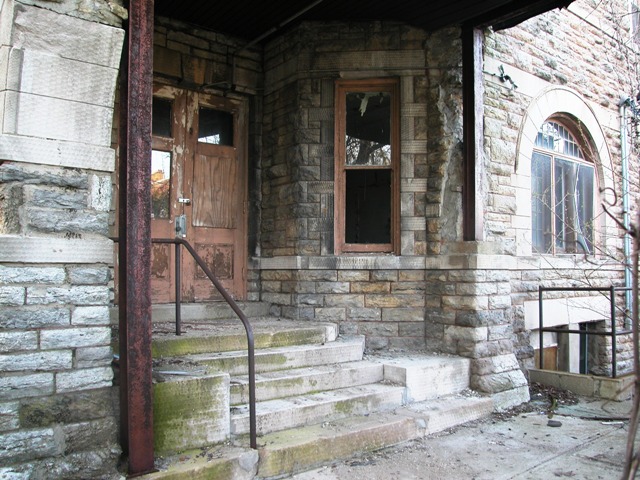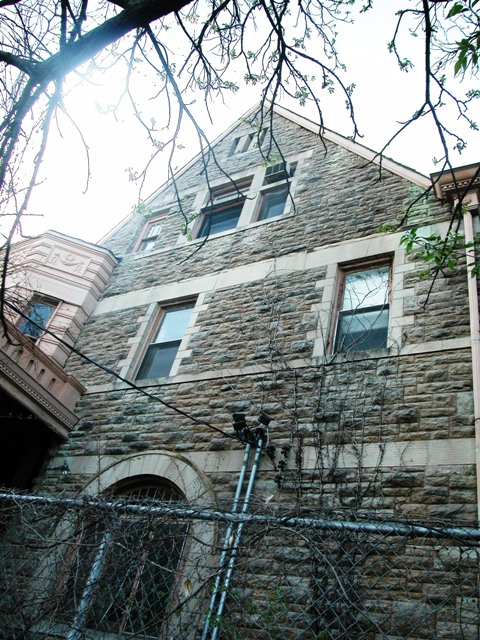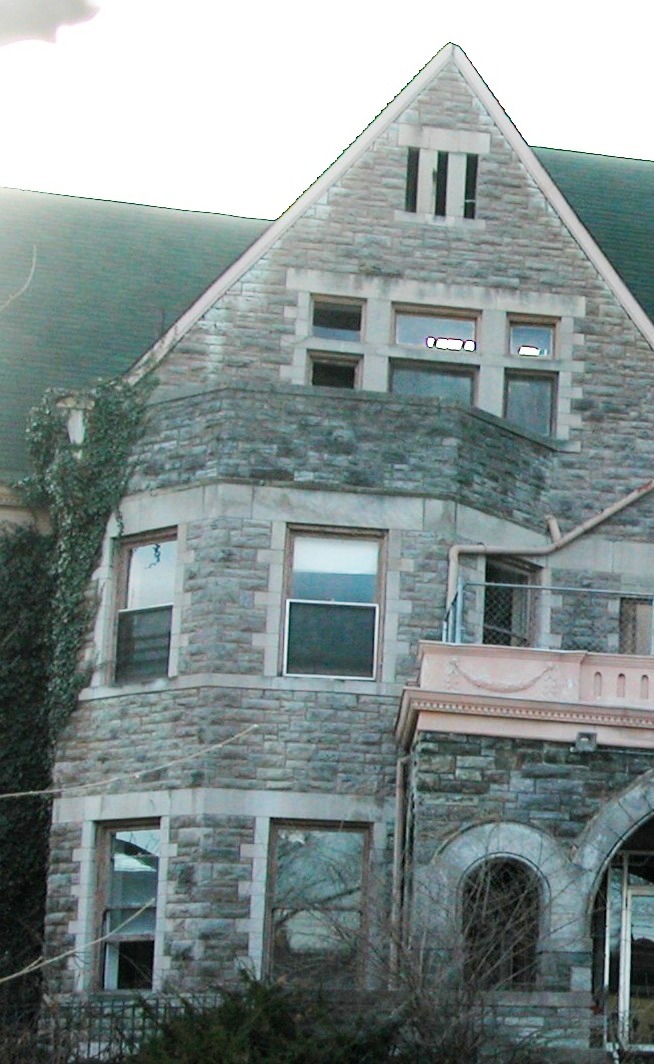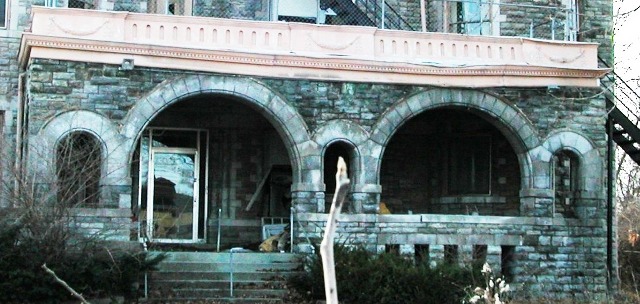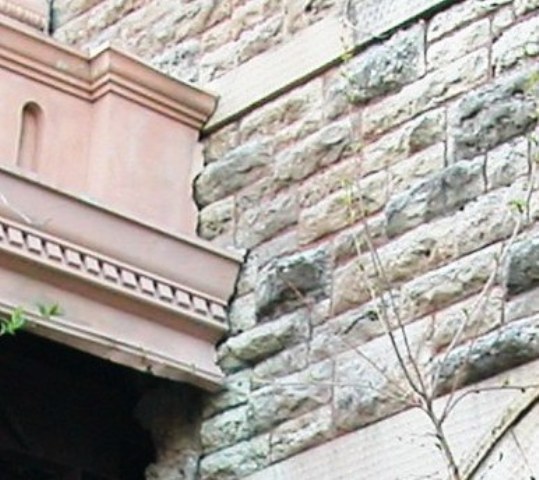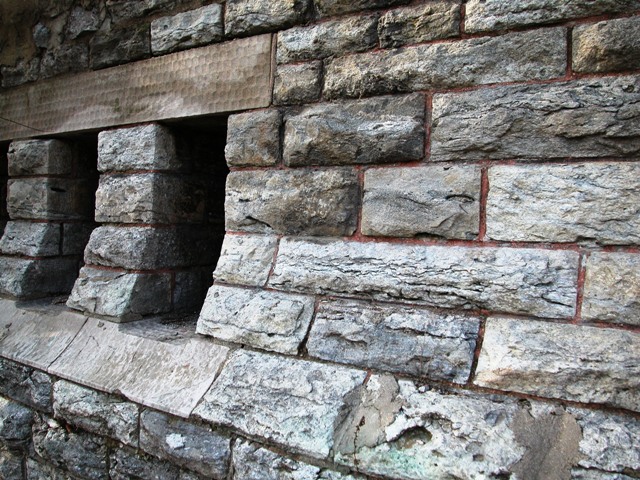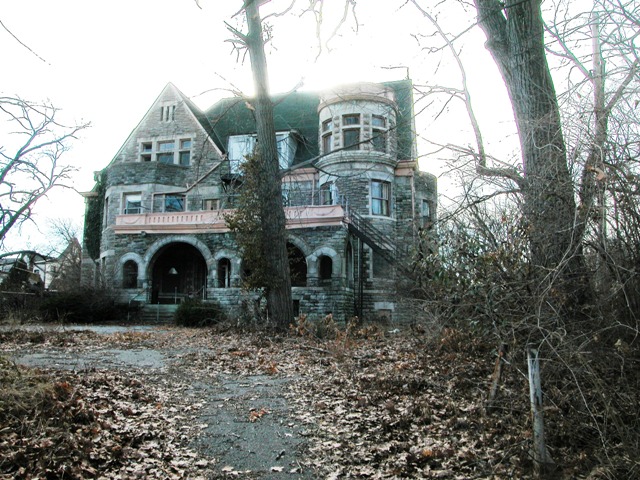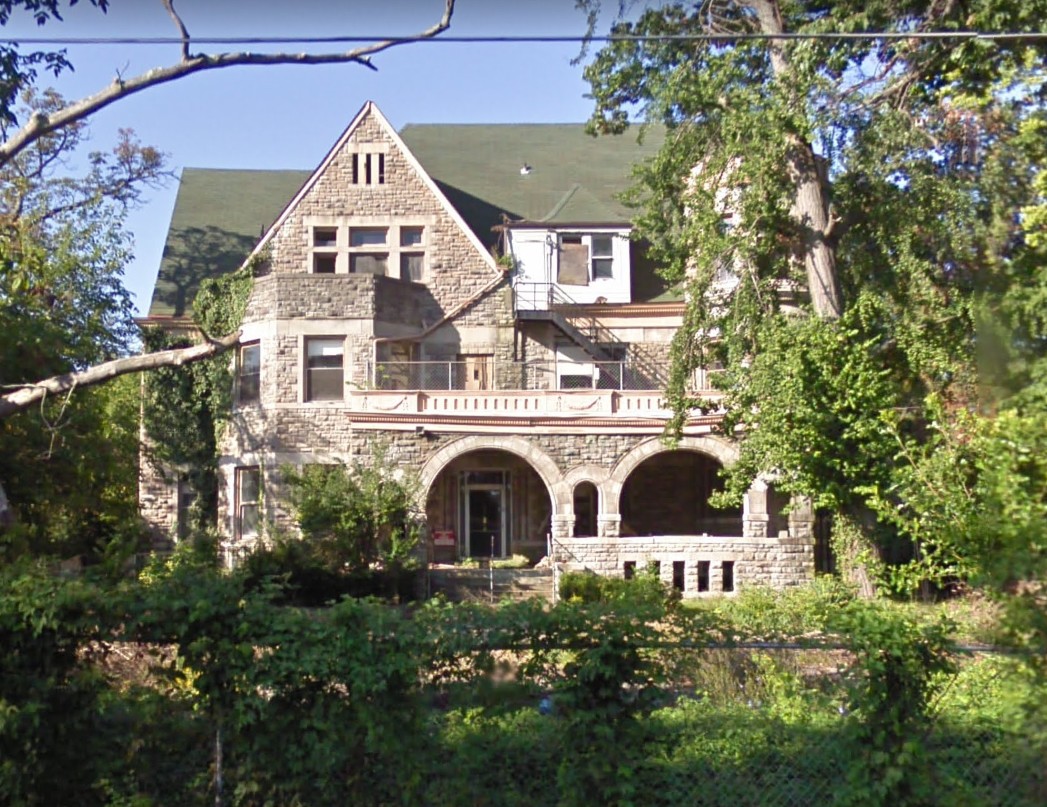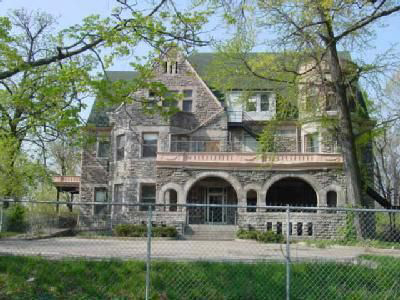 ---
There will be substantial work for the buyer's architects at the current location and future site. ResErections will collaborate on the disassembly methods, and integrate LIDAR, RFID, and other digital information into AutoCAD and BIM software systems.
Purchaser is responsible for design and construction activities after delivery of the house components to destination. It is recommended that the purchaser engage the services of a local architect and construction firm to reconstruct the house. This beautiful endangered house can be saved. The stone shell and most of the interior wood structure is recoverable. 95 % of the materials required for reconstruction is included in our delivered price, the cost of materials for the reconstructed house will be far less than built from scratch with new materials. Many of the components of the house are unique, and cannot be reproduced with modern materials. Houses constructed in this manner will be environmentally superior, and qualify for US Green Building Council's superior LEED standards (Leadership in Energy and Environmental Design).
We disassemble and deliver a house for between $ 150 and $ 300 per sqft. High end reconstruction with architects and top construction firms often build ultra houses between $ 700 and $ 1,500 per sqft. We deliver all of the material to reconstruct the original building, so the expenditures on the reconstructed house are for interior, high end features, extra additions, and the site. With a finished basement, this 8,700 sqft house will stretch to 12,000 sqft. Buyers could easily spend $ 600 and more per sqft to reconstruct and still be less expensive than a modern McMansion. We expect the reconstructed cost of the castle should be around $ 4 million.

Comment: The price is too high for an old abandoned wreck !!
Reply: That $ 1.2 million is going to be spent, not pocketed. Creating 20 Man Years of American craftsmen employment, It is what it will cost and makes saving the house possible by bringing together the right professional business services to actually do the work and pay the bills.
These projects are the ultimate in Global Macro Scale Recycling !! We are saving the art of the building's designer as well as its irreplacable material. Careful Documentation, Architecture, Engineering, Craftsmanship, American Jobs, many local service and construction vendors. Materials, Transportation, Insurance, Building Inspectors, Bankers, and, no doubt, Lawyers. It would be nice to move it to a local site, but the money may come from the Atlantic or Pacific seaboard cities where the affluent live and real estate values make this house a bargain.
Imagine the value of this house in a fine neighborhood or estate property in Thousand Oaks, Napa, Houston, Atlanta, Chicago, Toronto, St. Louis, Vancouver, Austin, Stamford, Chevy Chase, Long Island. It would be worth twice the cost of moving and reconstructing. A fascinating, two year effort with an ROI of 100%.
If we are unsuccessful in finding a buyer to finance moving the house, it will be leveled with a few days of backhoe and wrecking ball work and wind up in the landfill. We are in a race to find a buyer before the city - tax payer - demolition process takes over.
Question: Do you guys own Romanesque III ? We drive by it often. If so, we would like to know what you are doing about it. It is a boarded up rotting eyesore, a danger, and should be demolished.
Answer: We do not own any of the houses on our web site, but have agreements with the owners to search for buyers that will move the houses to suitable new sites. You are right about Romanesque III. It is a wreck, but the stone facade is fine. It is a beautiful stone 1888 Samuel Hannaford Romanesque house that would be easy to move ... costly, but easy and worth it. Because the interior is already gone, the re-architected version has the freedom to rebuild the interior as the buyer would prefer. We hope the city isn't forced to demolish it before we find a buyer. We are doing our best to save it by removing it from the neighborhood. It is contiguous to the Martin Luther King Park and would make an excellent expansion to the community park.
Comment: In America, preservation and restoration is a many billion dollar industry. Maintenance of public and historic structures is a high art, with many professional practitioners. There is no shortage of work to do, and the majority of the work is paid for institutionally, by government, or other cultural organizations. It is by no means a non-profit business. Professional preservationists have an obligation to selectively and responsibly put limited talents and money where the best of heritage is preserved rather than telling others what their limited resources and public tax money should be spent on. Revenue motivated advocates often whip up public hysteria and rely on legal obstructionism to preserve old structures under the guise of "non-profit" - but salary paying organizations. Good solutions to reclaiming and using historic structures are criticized as not good enough, resulting in decay and loss, and worthy structures are demolished because enough money could not be found to do a better thing. Moving endangered structures is a far better result than scavenging for individual components and demolition.
Question: If I connect you with a buyer, will you pay a commission ?
ResErections will pay non-owner individuals who connect us with a buyer a finders fee of $ 25,000 upon closing. You must contact us to establish your role as an initiator source. A Confidentiality Agreement will be necessary.
ResErections will not tie the buyer's reconstruction efforts to bureaucratic qualifications for government tax credits or require employment of certified historic craftsmen and archivists or seek protective covenants and rehabilitation agreements insuring that the buildings will be protected from changes. We do not offer cultural resource management, historic preservation planning, historical research, litigation support and encouragement, and academic grantsmanship. You Buy It ... We Disassemble It ... You ReBuild It ... You Own It ! Turning cash into real estate property and American wealth into Americans at work.
The house today ... December 15, 2018
Too reproachful a jewel to leave in a ruined landscape.
---
ResErections has other American Castles to relocate - click images.
---
Videos of our Work
Guernsey County American Folk -- Drone and Time Lapse Dissassembly
Daily Work -- Disassembly and documentation
Make this place your Home -- Church Project scope
Laser Image Fly Through -- Laser Scan by 3D Engineering Solutions
Romanesque I -- House and Interior.
Beaux Arts Bank -- Drone flight
---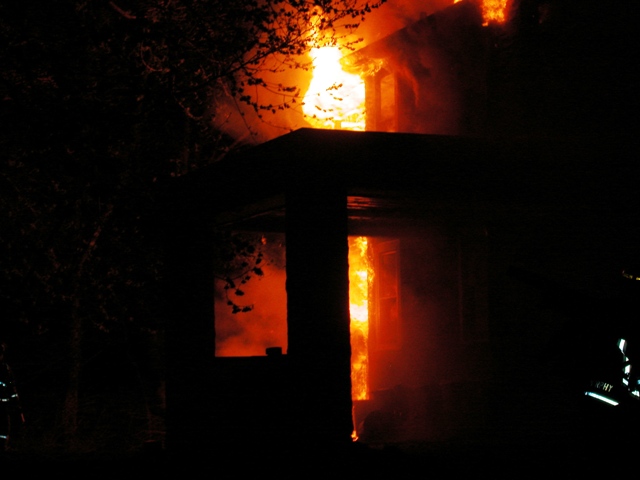 How ResErections got into this Business
---

Telephone (800) 392-2421

Cell (513) 212-8496

Office Hours -- 3pm - 8pm

Email Info@ResErections.com

---
This Site has been active for 10 years.