McLaughlin, James W.
(Cincinnati, 1834-1923)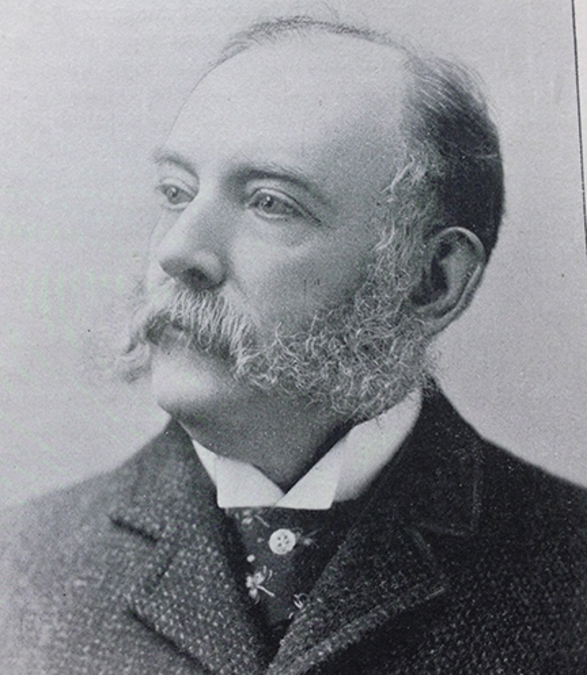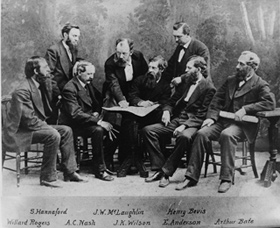 James W. McLaughlin was probably the most important Cincinnati-born architect during the second half of the nineteenth century. With his contemporary and rival Samuel Hannaford (who was born in England), McLaughlin dominated the Cincinnati architectural scene from before the Civil War until the turn of the century. Between them, they split the major establishment governmental, institutional, commercial, and residential commissions, leaving the remainder to more individualistic "aesthetic" architects and those who served primarily the German-American community. Both firms gave definitive form to the numerous cultural and public institutions developed during this highpoint of Cincinnati's prosperity, creativity, and influence. For instance, McLaughlin's Machinery Hall, straddling the Miami & Erie Canal for 300 feet during the 1888 Cincinnati Centennial Exposition, effectively complemented Hannaford's Music and Exposition Hall.

While Hannaford adapted the currently fashionable styles sensitively and appropriately, McLaughlin had a more distinctive, if occasionally awkward, stylistic personality, and was more innovative structurally and functionally. His second Shillito Dry Goods Store at Seventh and Race streets (1877-1878) is the outstanding example of these contributions, but his first major work, the earlier Shillito Store on Fourth Street (1855-1856; now the eastern half of McAlpin's, for whom McLaughlin enlarged it in 1892), also reflected John Shillito's highly organized approach to merchandising.

McLaughlin's first-generation designs for the Cincinnati Zoological Gardens (1874-1875) produced the earliest completed structures specifically for that purpose in the United States, and displayed his sense of humor and flexibility in housing specimens in buildings inspired by their geographical and ethnically associated origins.

McLaughlin's design for the Cincinnati Public Library (1868-1870) was recognized as a functional and structural model for its day. His Italianate "commercial palace" for the Cincinnati Gas, Coke & Light Co. (now Cincinnati Gas & Electric Co.), still at Fourth and Plum streets (1870; the building has been adapted as apartments), reflects his rather hard-edged, bold approach to conventional styles. He was also responsible for designing several of the earliest "skyscrapers" in the city, among many commercial structures throughout his long career.

McLaughlin gave a personal twist, rather tough but handsome, to the design of virtually every building he was responsible for, but his best and most characteristic surviving works are in a late version of the Richardsonian Romanesque style. Stripped to the most basic geometric forms, with minimal ornament, such buildings as the Wayne County Courthouse in Richmond, Indiana (1889-1890), like Cincinnati's First Unitarian Church at Reading Road and Linton Street (1888-1889), and the Sol P. Kineon-John Uri Lloyd (1887) and Sir Alfred T. Goshorn (1890-1891) houses on Clifton Avenue, are recognizably McLaughlin's.

McLaughlin's "Florentine Romanesque" facades for the original 1882-1886 Cincinnati Art Museum building—the oldest extant museum building in the Midwest—have been almost entirely swallowed up in later additions, but his interiors have recently been restored to approximately their original form and once again demonstrate their structural, functional, and systemic validity. The adjacent Art Academy of Cincinnati building (1885-1888), also somewhat reduced in form, is more conventionally Richardsonian Romanesque. The Art Academy moved its headquarters to Over-the-Rhine in fall of 2005. The original building will be preserved and renovated as part of CAM's early 21st century expansion under director Aaron Betsky.

McLaughlin's 1884 rebuilding of the Hamilton County Courthouse after a riot and fire, as well as his Y.M.C.A. Building (1890-1891; later adapted as the Shubert Theater), were more interesting variants of the style, but have not survived. He also designed many other institutional, educational, religious, and transportation buildings, clubs, and even the first stands for the Cincinnati Red Stockings baseball team. He was the chief architect for the Ohio State Building at the 1893 World's Columbian Exposition in Chicago, and received other important commissions outside the Cincinnati area.

James W. McLaughlin was born in Cincinnati in 1834. His brother George was a prominent insurance agent, sculptor, and local historian, and his sister M. (Mary) Louise has been recognized as a significant figure in the American Arts & Crafts Movement, especially for her innovative technological as well as artistic work in porcelain and pottery; she seems to have shared these characteristic approaches with her brother James.

James W. McLaughlin's family was largely Scotch-Irish by descent. The architect's father, William McLaughlin, was a fairly early Cincinnati merchant, moving here from Sewickley, Pa., in 1818. He was one of the founders of the John Shillito Dry Goods store, which provided J.W. with one of his first major commissions and one of his later most important works.

McLaughlin was trained in 1850 by Cincinnati's first professionally-trained native architect, James K. Wilson, and was a partner in 1857 of John R. Hamilton, an English-born and -trained architect, with whom he designed the prominent, eclectic former Cincinnati Masonic Temple; both of these architects demonstrated an innovative approach to materials, particularly cast-iron and architectural terracotta. McLaughlin was a member of the short-lived Cincinnati Sketch Club in 1860. He was also a founding member in 1890 of the Cincinnati Art Club, which still exists. He served the Union Army in, publishing a book illustrated with his vivid vignettes of Army life based on his experiences with Gen. Fremont in California. McLaughlin practiced under his own name until he left Cincinnati for New York City/New Jersey in 1912, at age 78.

During his long career as the dean of Cincinnati architects, McLaughlin employed and trained a number of Cincinnati's best late-19th-century architects. These included William Martin Aiken (later Supervising Architect of the Treasury), Alfred O. Elzner (who attended M.I.T., worked for H.H. Richardson in Brookline, Mass., and later worked in partnership with George M. Anderson; Elzner & Anderson carried on McLaughlin's innovative approach by designing the Ingalls Building at Fourth and Vine streets, the first reinforced-concrete high-rise office building in the world), J.K. Cady and Frank W. Handy who later practiced together in Chicago, and S.S. Godley and George W. Rapp of Cincinnati. McLaughlin probably also trained H. Neill Wilson (later a prominent architect practicing in Pittsfield, Mass.), a son of his own mentor, James K. Wilson.

His only recognized partner after 1857 was James Gilmore, who joined him after 1900 and probably carried on the firm after McLaughlin's move East, where the aged architect apparently continued to practice until his death in 1923.

McLaughlin was an organizer in 1870 and later president (1878-1882 and 1889-1893) of the Cincinnati Chapter of the American Institute of Architects. He was made a Fellow of the AIA in 1870, served on the AIA board of directors, and was active in their national meetings, including that held in Cincinnati in 1889, when the AIA and the Western Society of Architects merged. His works were well represented in national and regional architectural periodicals, such as The American Architect and Building News and the Chicago-based Inland Architect.

McLaughlin was a vivid and often amusing draftsman; fortunately, many of his drawings, sketches, and blueprints, as well as his Commission Book from 1857 until the end of the century, have survived. Although a number of his major works no longer exist, there is more than enough evidence to establish James W. McLaughlin as an important and innovative American, as well as Cincinnati-area, architect.

The 1888 Centennial Review of Cincinnati recognized McLaughlin's contribution: "Upon no profession does a city more strongly depend for the impressions it produces on the mind of visitors than upon that of the architect. We judge the cities of the past to a great extent by the architectural monuments and remnants they have left behind, and the cities of to-day impress themselves favorably or unfavorably upon the attention of those visiting them in proportion as they are well or badly built. Cincinnati is recognized as architecturally the leading city of the [Mid]West, and to no one individually in the city is this well sustained reputation more largely due than to Mr. James W. McLaughlin, who has been for many years prominent as one of the most skillful architects of the city."

In a 1913 letter, now the property of Nancy House who has generously allowed quotation from it, McLaughlin recalls the outstanding architects and buildings of Cincinnati, including his own major works (although he refers to himself in the third person): "[When] The present Shillito's store. . .was erected, this was a new departure in such structures, as previous to this time when spans of joists were upwards of 25 feet the spacing of uprights beneath the supporting girders seldom exceeded 15 feet. Mr. McLaughlin divided the area into spaces of 24 feet and boldly placed all his columns at that distance from centers. This idea was at once copied in New York and other cities and is now the prevailing custom throughout the country."
Source: Biographical Dictionary of Cincinnati Architects, 1788-1940
Author: Walter E. Langsam
Contemporary photographs: Alice Weston
Historical photographs: Cincinnati Historical Society Library, Cincinnati Museum Center
Editors: Susannah Sachdeva and Sue Ann Painter
Publisher: Architectural Foundation of Cincinnati, Cincinnati, Ohio. © 2008.