Preserving the Magnificent
!! Create a Legacy !!
Mansions ReLocated to Your Site
---
Win Some ... Lose Some
Wonderful gilded age 1900 Prairie Style - American FourSquare home. Authentic details, a true classic design, this white rockfaced limestone house was located in Cincinnati's finest neighborhood for successful professionals.
The epitome of the post-Victorian "comfortable house", the FourSquare is about dignified self-containment. Massive, embellished, conservative. Boxey shaped, with hipped roof, wide porch, large windows, and quiet style. This big - 2 1/2 story - 6,300 sqft house is a beautiful white rock-faced limestone structure with wide eaves, large central dormers, pedimented porch roof, ornate wood trim, dental molding, a red Mission style tile roof, and a large bay window dining room. Built to last for generations.
What makes this house special is its pure elaboration of a classic architecture, its authenticity, its completeness, its excellent condition, and the quality of materials and craftsmanship used to construct it. Historic stone structures can be saved by disassembly and relocation. Wood and brick houses are destroyed in the process of disassembly. In the gilded age, stone was the highest cost building material, so the wealthy built with stone. Beautiful stone houses can be moved hundreds of miles and reconstructed with precision.
This house would be worth many times its cost to buyers contemplating building a McMansion. There will nothing like it down the block. It would make a nice infill in an established older vibrant neighborhood. Expert reconstruction with modern architectural engineering would result in an efficient home meeting high LEED standards. (USGBC - Leadership in Energy and Environmental Design)
Children's Hospital is expanding, forcing the demoliton of this home. The final demolition permit has been issued. If we find a buyer, they will wait for the several weeks it will take to disassemble the house. We have a few days to find a buyer before demolition commences. It is doomed, so we want to disassemble and relocate it.
ResErections, Inc. specializes in documenting, marketing and disassembling architecturally unique 19th century stone buildings that can be reconstructed on sites where the investment results in the creation of new real estate wealth. Buyers save an endangered magnificent home from demolition - and create a marvelous new residence.

---
September 13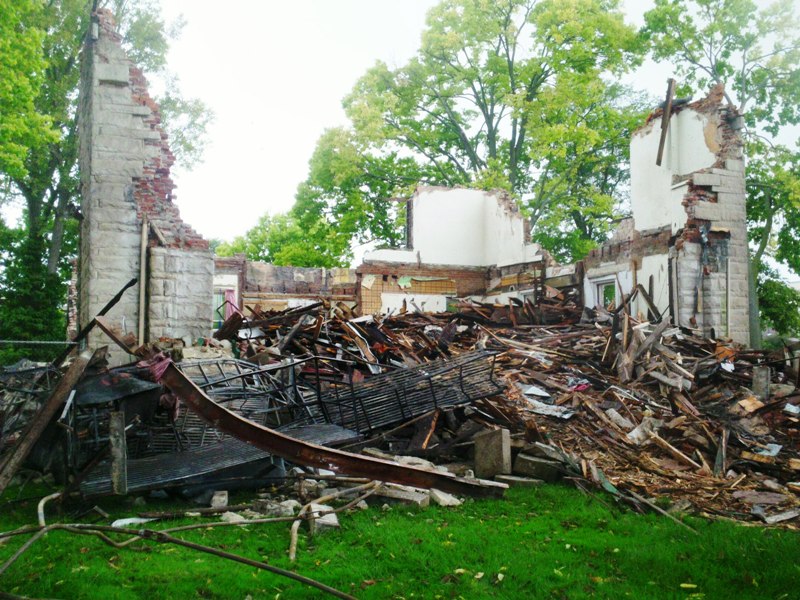 We weren't bluffing. Demolition started today. The only way to save these great stone buildings is to get the funds to properly disassemble and relocate them. It is not inexpensive and requires the collaboration of professional architecture, engineering, construction, and logistics personnel. It takes planning, expertise and extensive computing technologies.

Planned demolition sneaks up on buildings, as desirable redevelopment efforts function subrosa until the demolition permit is issued. Then, the window for saving the building is a matter of weeks and can only be changed with cash in hand or lawyers. They do not want fights with preservation advocates (some of them nuts) before the axe is already falling. The buildings are going to be removed for good reasons by seasoned construction and development firms with institutional and government support.

Yet, there are many marvelous gilded age stone mansions and building facades located in the path of development or in impoverished urban areas that could be saved by relocation.

The process of demolition may recover material for recycling as construction waste, but the time pressures of job completion forces fast removal and disposal of the material, so little effort is expended to recover material in reusable form. Irreplacable stone is lost ... wood us usually burned. The value of what is recovered is trivial.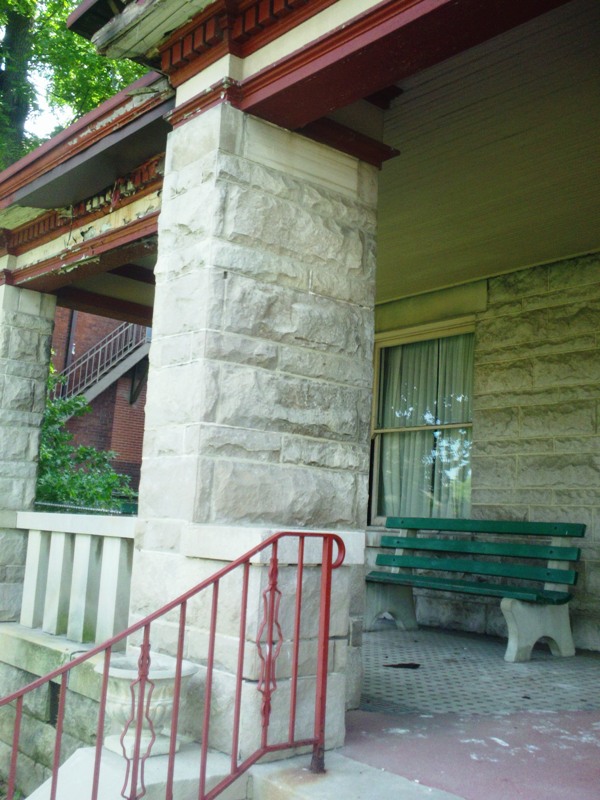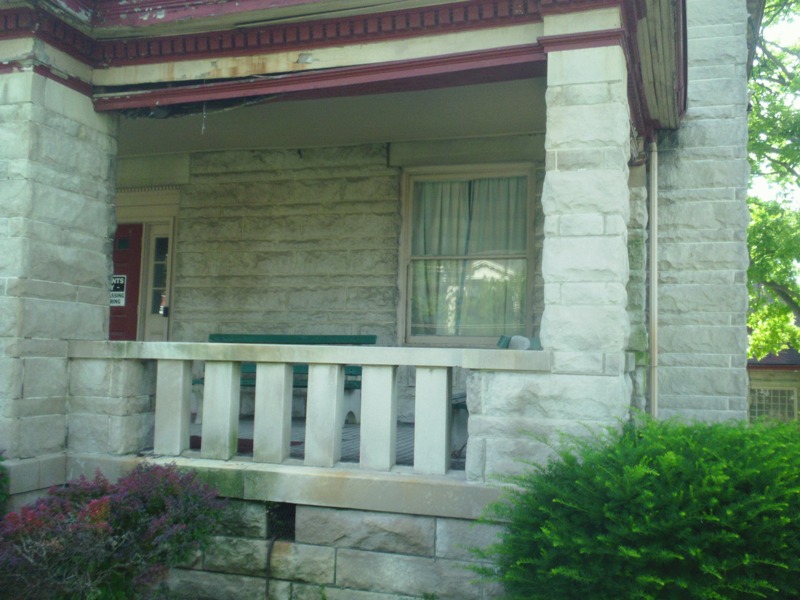 A wide tiled front porch with broad inviting steps.
ResErections sees disassembling and relocating these houses as being a good idea and recent technology has made it practical. It costs a lot of money and construction, engineering, logistics, and information systems to disassemble a house with the purpose of reconstructing it to high modern standards. The internet, laser scanning, and RFID are enabling technologies, crucial to reaching the possible market and moving data from one site and group of collaborating firms to others hundreds of miles away. The majority of architecture firms are small and local, and construction firms are also local, and they all talk the same technical language. The key to making such moves is to find cash buyers that we are trying to reach through the architecture profession and select social media.
This house would have been a simple reconstruction work. All of the material to reconstruct the house is recovered during disassembly. Precise Laser measurement data is imported into AutoCad architecture professional software, leading to rapid redesign. Individual stones and wooden components are numbered and replaced in their original location. ResErections manages the huge inventory of pieces, delivering each item on a just-in-time basis to the buyer's construction team. With a finished basement, the house would be 6,300 sqft.
This house can be reconstructed anywhere in the USA. It will take 10 weeks to disassemble, employing 10 craftsmen. Freight, storage, and delivery costs are included in the price. A local architect/construction team employed by the buyer is needed to reconstruct.
The new owner will have the satisfaction of saving a unique historic home updated with modern efficient architecture and created new real estate wealth. A good deal for buyers, sellers, doers, and the public.
You buy it, We disassemble it, You rebuild it, You Own it.
Turning American wealth into Americans at Work.

Office (513) 376-6235
Cell
(513) 212-8496
We would enjoy hearing from you by phone or email. Please leave messages if we miss you. Email is best.

Electronic mail Info@ResErections.com

---
ResErections has several other American Castles for relocation - click the image to view.
---

This Site has been active for 8 years.